Gallery Makeovers – Adding Only Alpha CC
There are a lot of really cute and pretty sims available for free download on the official The Sims 4 Gallery. The good part is that you can pick any household that is uploaded to the gallery, and get to playing.
However, it might be a fun idea to do a quick makeover for the sims! This time we are adding only Alpha Custom Content (CC) for the sims found in the gallery.
The first sim we are giving a makeover is made by nightlioness.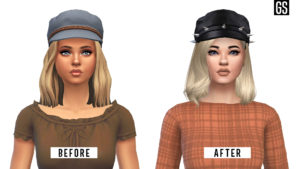 While you may not always be able to find the exact copy of EA's maxis match style items in the world of Alpha Custom Content, you can substitute for a similar item. In this case we used a hat with spikes and a few shades lighter alpha hair.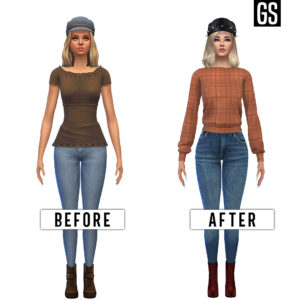 The second sim is made by MoonNigght54.
She already had such a cute face that we didn't want to change, so we only added an alpha skin and lipstick custom content. For the hair we kept it simple with brown curly hairstyle.
Third sim is this gorgeous blonde made by Mariaraz.
Just look how different sims look with and without alpha CC! By just adding a fitting skin, realistic eyelashes and hair, the sim has leveled up multiple times in just a matter of a few clicks. Plus, you can't deny that the play dough like maxis match hair in this case is no way near the beautiful alpha custom content locks.
You can customize your sims' wardrobes with thousands of alpha clothing and accessory items in multiple styles.
Adding alpha custom content might be a fun way for you to refresh your gameplay, since The Sims 4 comes with limited additional content that you have to pay for anyways. You can find any alternative to maxis match items made by EA on the internet since there are so many alpha custom content creators.
Now, the question remains – what will you download first when you go alpha CC shopping? (:
Used CC in the pictures:
Clothing: gorgeoussims
Shoes: mermaladesimtr
Hair: s-club, nightcrawler, anto
Skin & makeup: gorgeoussims